【2 days, 1 night】Cycling and Trekking: From the Kiso Valley to the Ina Valley and Beyond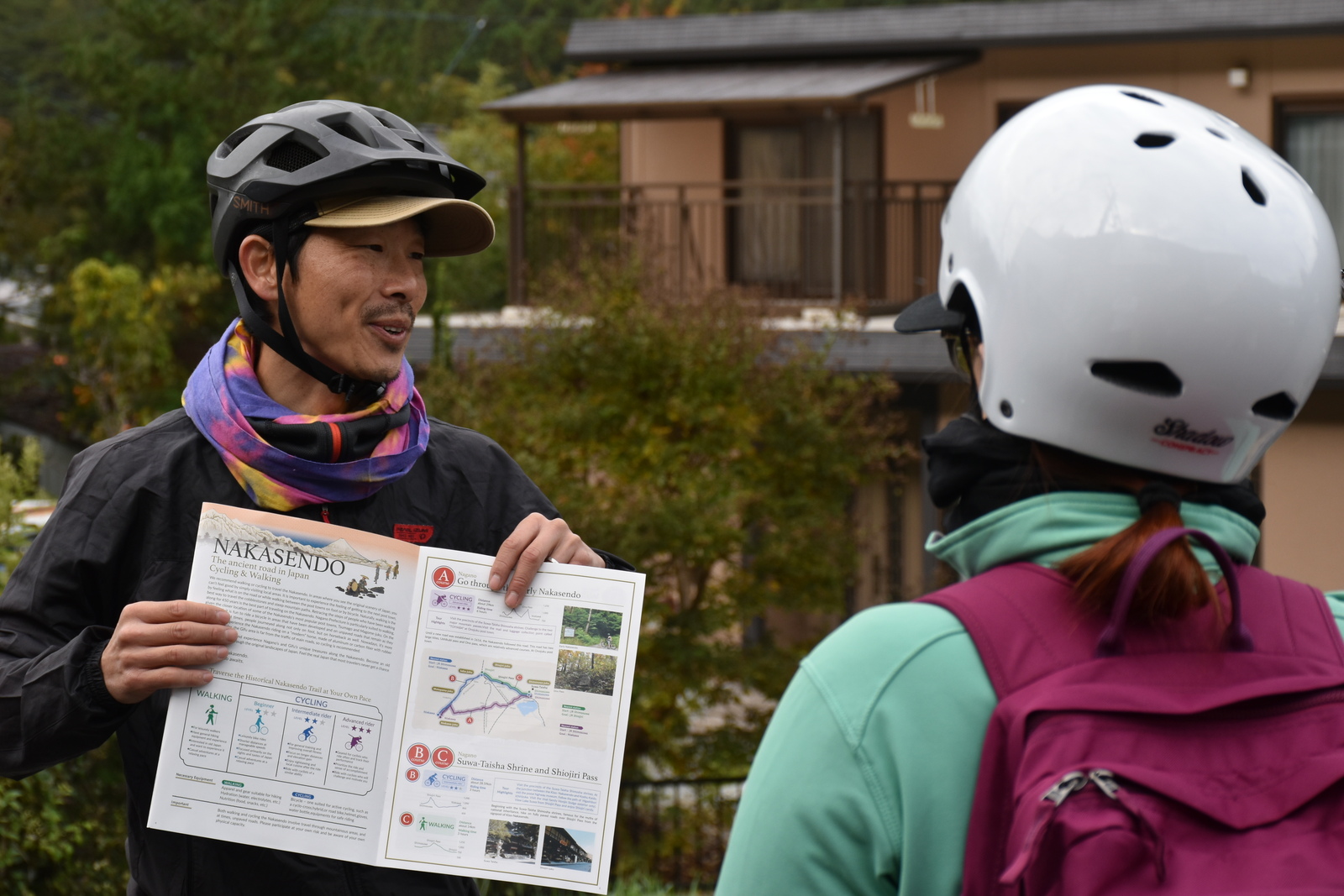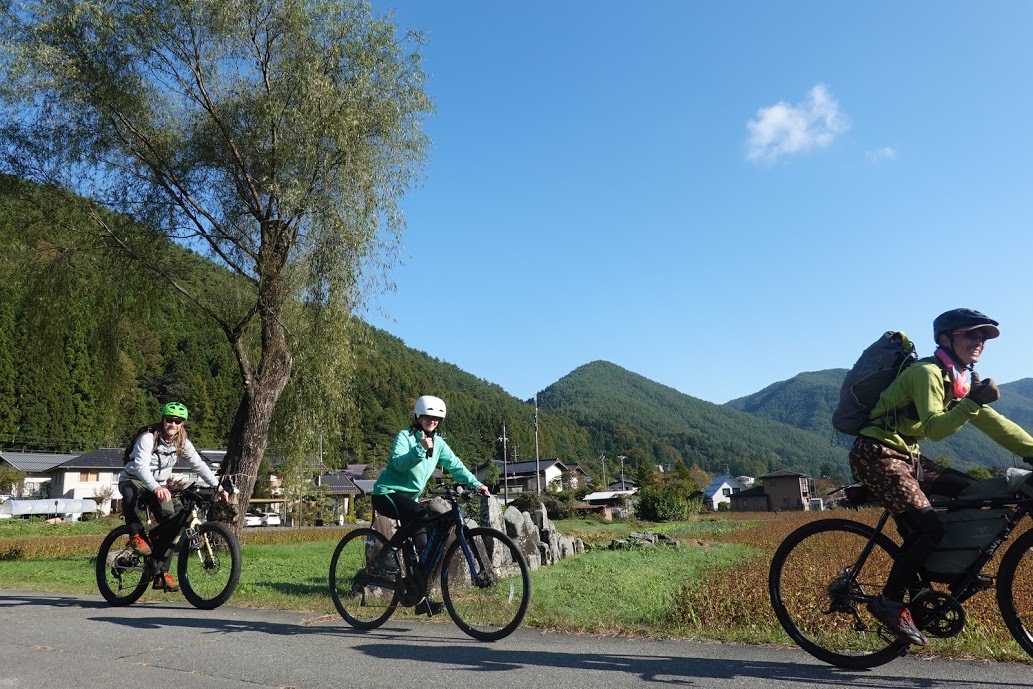 This two-day cycling and trekking tour takes you from the Kiso Valley, with its deep woodlands and historical towns, to the Ina Valley, with its endless rice fields and panoramic views of the Japanese Alps.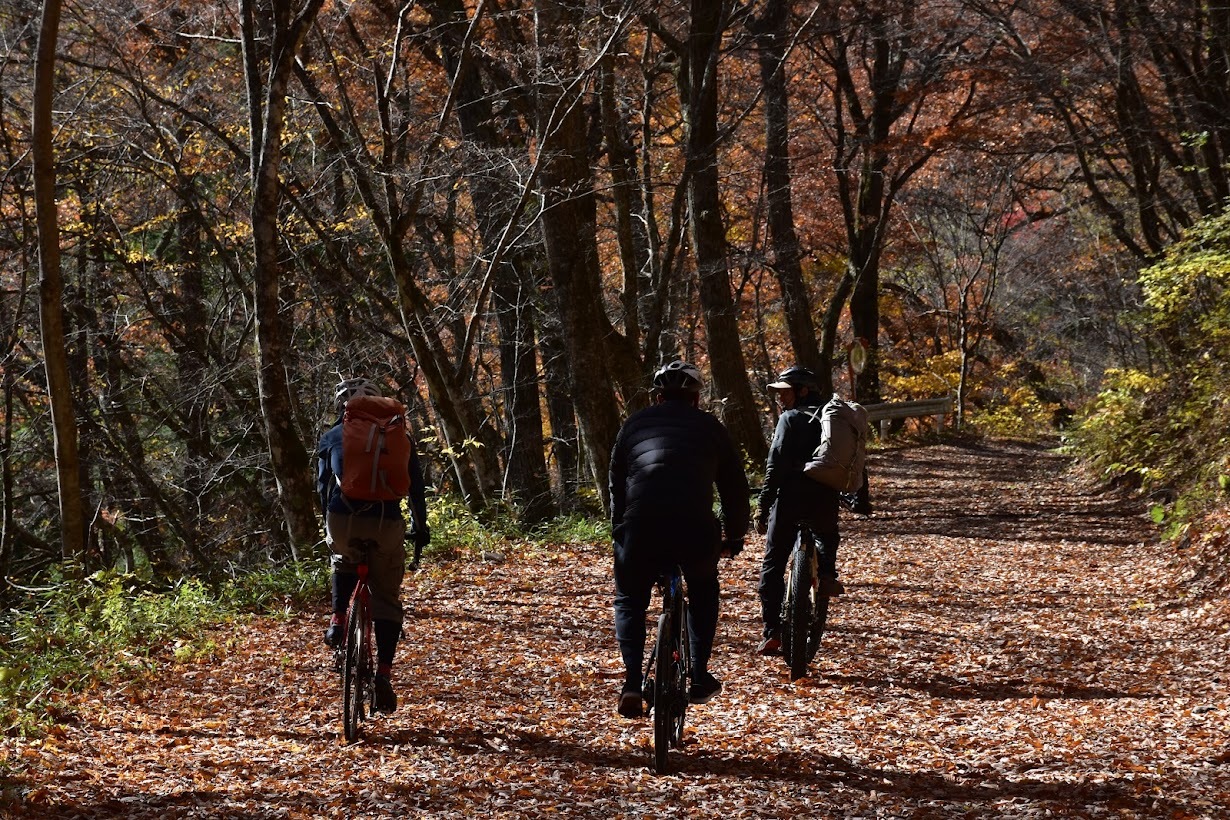 The Nakasendo has become internationally famous, but very few people today know the original route. You can join this exclusive club by taking part in a cycling tour of the "Phantom Nakasendo". Starting Narai Juku of the Kiso Valley, you will navigate over the Ushikubi Pass, then on to Ono-Juku, and emerging at Tatsuno in the Ina Valley.
"It is a perfect combination of cycling and trekking mixed with the guide's explanations of culture and history."
A wonderful day of cycling, discovering the northern part of the Ina Valley, nestled between two gorgeous alpine mountain ranges. You'll see an abundance of nature beneath beautiful mountain scenery. Along the way, you will also get off your bike and do two short treks: one to the beautiful, 50m-high, three-level Sankyu no Taki Waterfall, through a virgin forest in the Yokokawa Gorge, and to the nationally renowned Jaishi (Snake Rock), and the other to a spot known as 'Zero Point'.
► Some cycling experience is necessary. The trek features some challenging terrain and steep sections, so please watch your step - some trail experience is also necessary.
► Both days of cycling are long and feature climbs and descents. Day two includes about an hour of off-road riding and two short treks, which will take about 90 minutes and 60 minutes respectively. Participants will need a good level of fitness and endurance.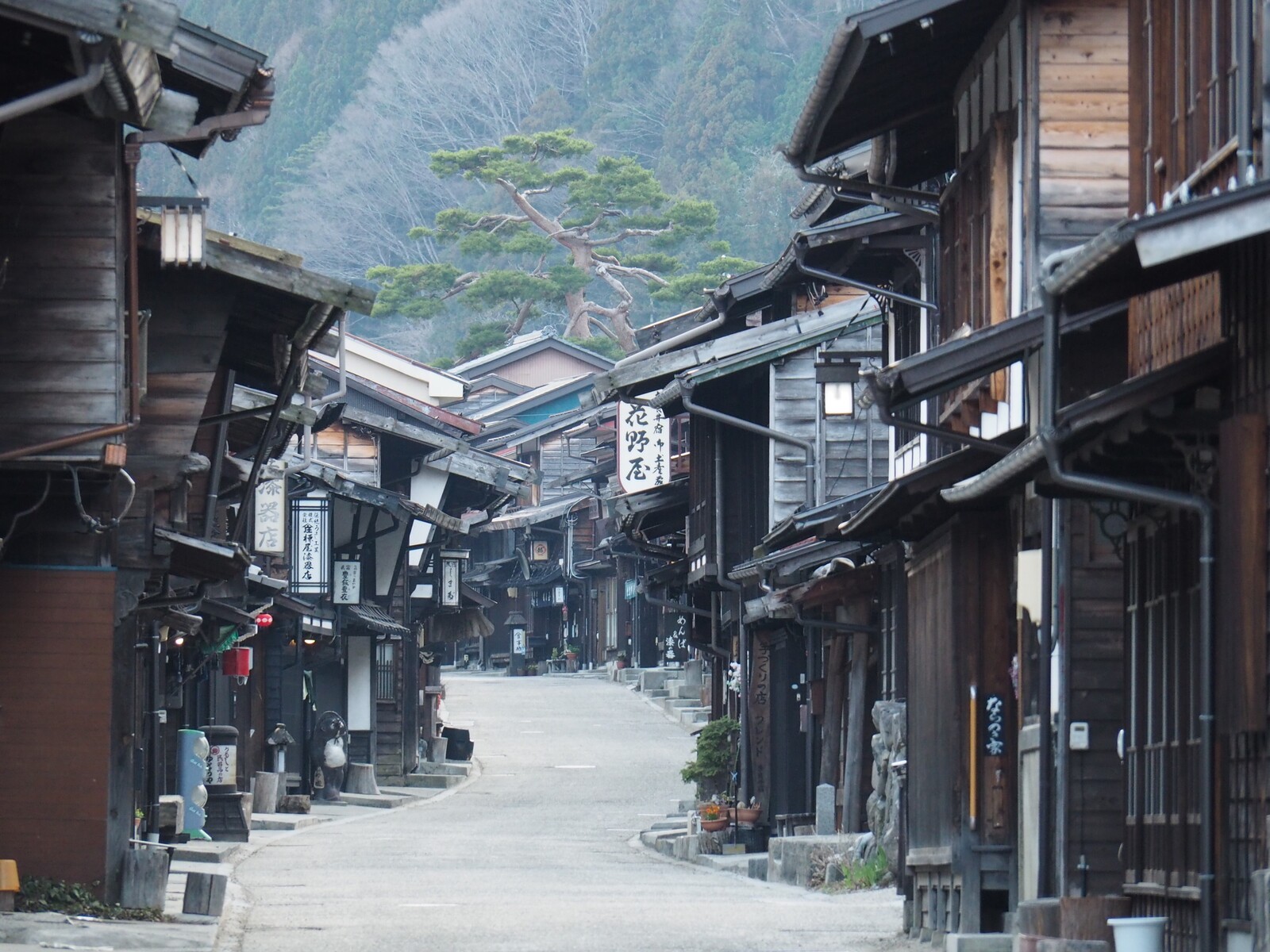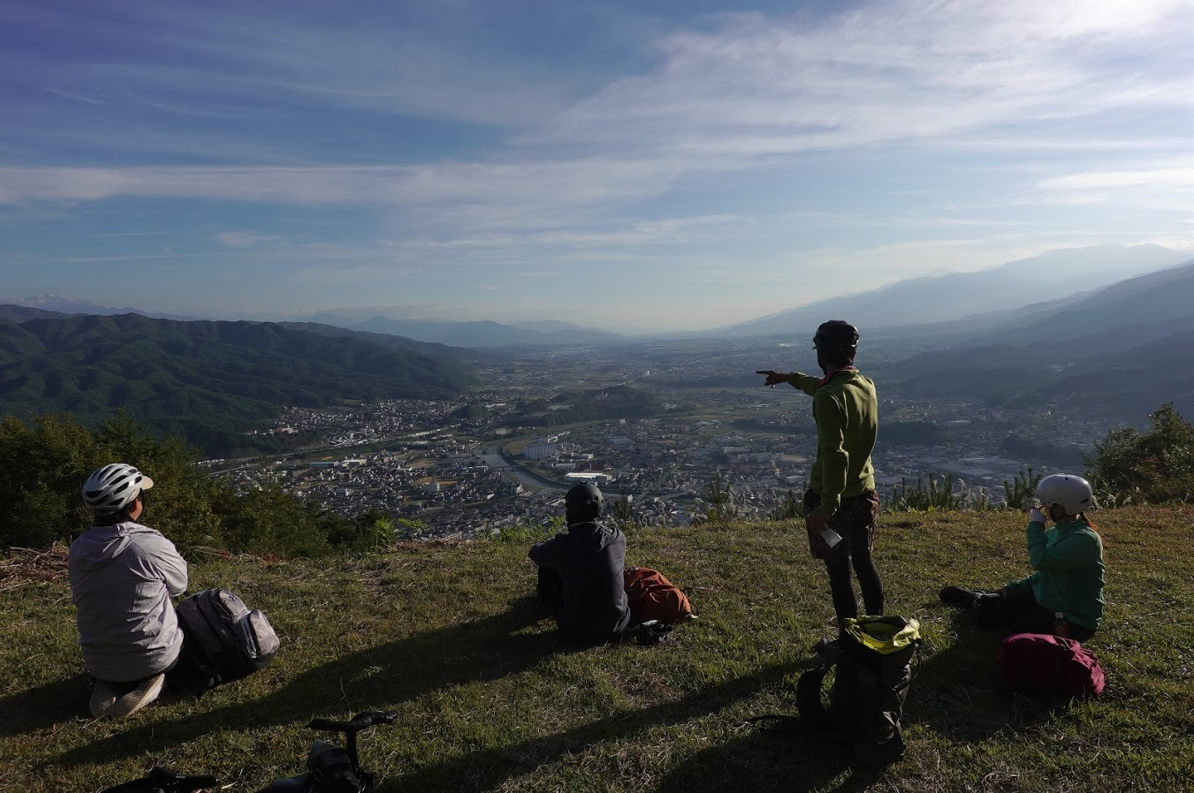 9:00 - Meet at the Roadside Station in Narai (Narai Michi-no-Eki Kiso-no-Ohashi)

9:00-9:15 – Receive a briefing and start cycling

9:15-11:00 - Narai-juku ⇢ Ushikubi Pass

11:00-11:45 - Lunch (soup set, full of local ingredients)

11:45-12:15 - Ushikubi Pass ⇢ Ono Juku

12:15-13:45 - Look around Ono Juku

13:45-15:00 - Ono Juku ⇢ Sangun no Tsuji ⇢ Ono Juku ⇢ Misawa Milestone

15:00-15:10 - Break

15:10-16:30 - Misawa Milestone ⇢ Enrei-Ojo Parkline

16:30-16:40 - Break

16:40-17:00 – Enrei-Ojo Parkline ⇢ Kayabuki no Yakata

17:00 - Check in at Kayabuki no Yakata

18:30 - Dinner (Japanese style)
7:30 – Breakfast and check out

9:00-9:15 - Briefing at Kayabuki no Yakata, start cycling

9:15-9:45 - (cycling) Kayabuki no Yakata ⇢ Jaishi Camp Site

10:00-11:30 - (trekking) Jaishi Camp Site ⇢ Sankyu-no-Taki Waterfall in Yokokawa Gorge ⇢ Jyaishi Camp Site

11:30-12:30 - Lunch (large onigiri wrapped in paper-thin wood shaving)

12:30-14:00 - (cycling) Kawashima, off-road

14:00-15:15 - (cycling) Kawashima - Tatsuno

15:15-16:00 - (trekking) to Zero Point

16:15-17:00 - (cycling) Zero Point ⇢ Mt. Ohjo

17:00 - Peak of Mt. Ohjyo with panoramic views of the Ina Valley

17:30-18:30 - (cycling) Mt. Ohjyo ⇢ GRAV BICYCLE STATION

18:30 – Tour ends at GRAV BICYCLE STATION in Tatsuno Town
WHAT IS INCLUDED

► Guide fee

► Translator fee

► Hot coffee/tea with local snacks

► Accommodation (1 night)

► Meals (1 Breakfast, 2 Lunches, 1 Dinner)

► All travel throughout the duration of the tour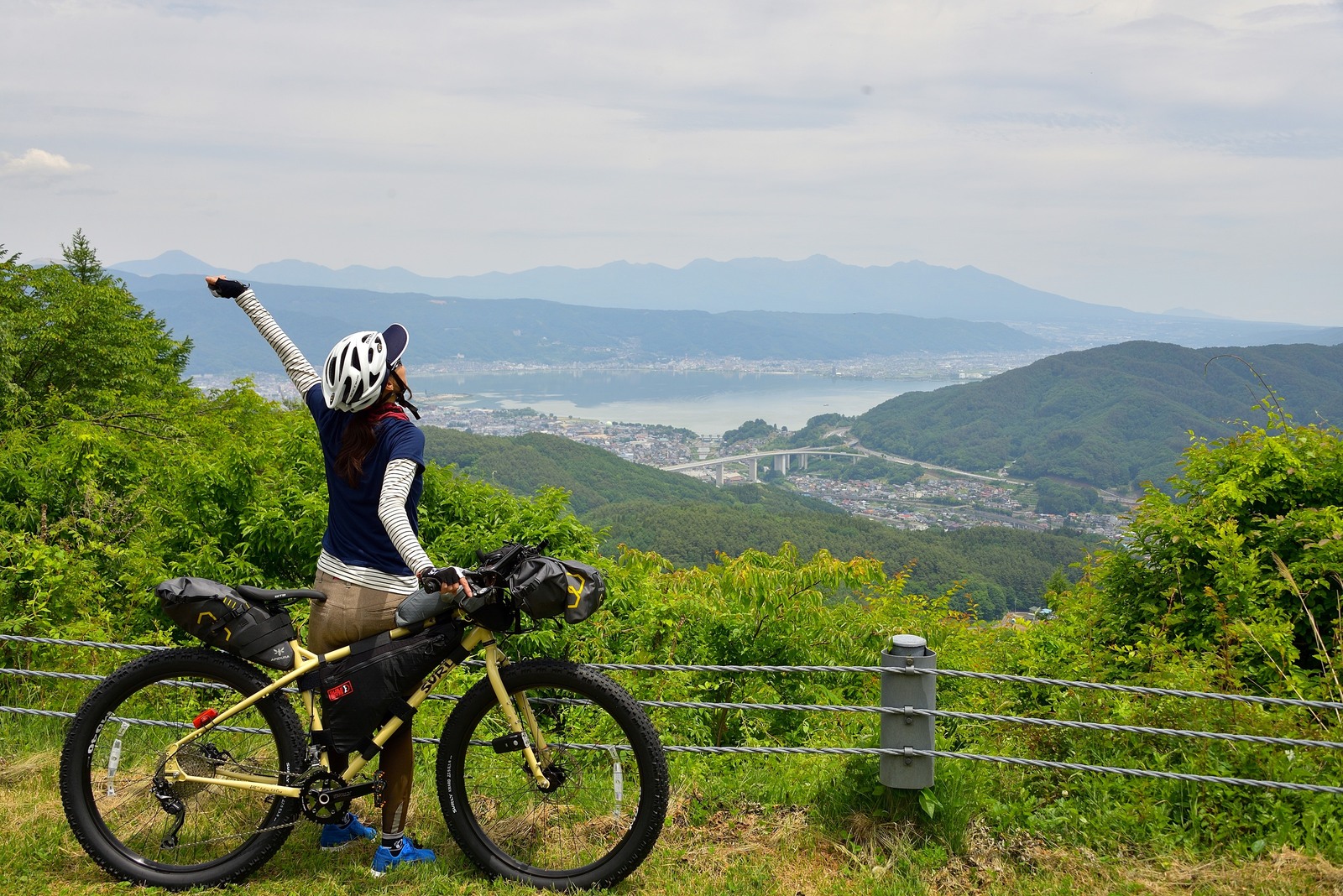 ► Transportation to/from start point and finish point

► Insurance (please purchase travel insurance in your own country)

► Anything else not specified (the bank transaction fee shall be covered by the customer)
Price
86,000JPY~/person for 4ppl
81,000JPY~/person for 5~6ppl
76,000JPY~/person for 7~10ppl
Experience time
1 nights, 2 days
Capacity
Minimum:4
Maximum:10
Booking
At least 30 days in advance

※This activity/tour will be available for you to purchase from April 2022.
Period
Mid-April - Mid-October
Contact
Nagano Ina Valley Tourism Bureau
EMAIL: k-dmo@union-kamiina.jp